Prom season is right around the corner, and parents and teens want to make it memorable.
Prom night is an important milestone in high school student's lives. It is, therefore, essential to plan well so that the night goes smoothly. Teens and their parents prepare for months and choose the right dress, suit, shoes, or accessories. Students must have the courage to ask someone special for their date; some will even go to great lengths to convince them! Friends make a deal to be their dates, and they go together.
RENT A STRETCH LIMO PARTY BUS
A prom limousine rental service is a great way to ensure your teen's entrance is glamorous, regardless of whether they are going with friends or on a date. limoformyprom.com Limo has a wide selection of stretch limousines and party buses to rent for proms. Please request a quotation to ensure that your teen arrives at prom on time and safely.
These are the top reasons to rent a prom limousine for your child's prom night.
ADVANTAGES OF BOOKING PROM LIMO RENTAL SERVICE APPOINTMENT
SHOW UP TO PROM LIMO RENTAL SERVICES
A unique ride is required for an extraordinary event. Prom is a formal event that celebrates the fact that teens are entering adulthood. Prom night is also about having fun, and it's their last hoorah before they graduate high school or enter college.
Ladies wear formal gowns, while men wear suits and fine tuxedos because the evening demands elegance. Your teen will look and feel great by renting a prom limousine rental service. They won't get wrinkled by trying to squeeze into a small car, and they can enjoy the comfort of space in a limousine or party bus and the luxury of a temperature-controlled environment. limoformyprom.com Limo provides limo service for proms or other school dances. Book a stretch limousine or a limo bus to suit your teenager's needs.
EASY TRANSPORTATION OF SMALL TO LARGE PROM PARTIES IN A STRETCH LIMO / PARTY BUS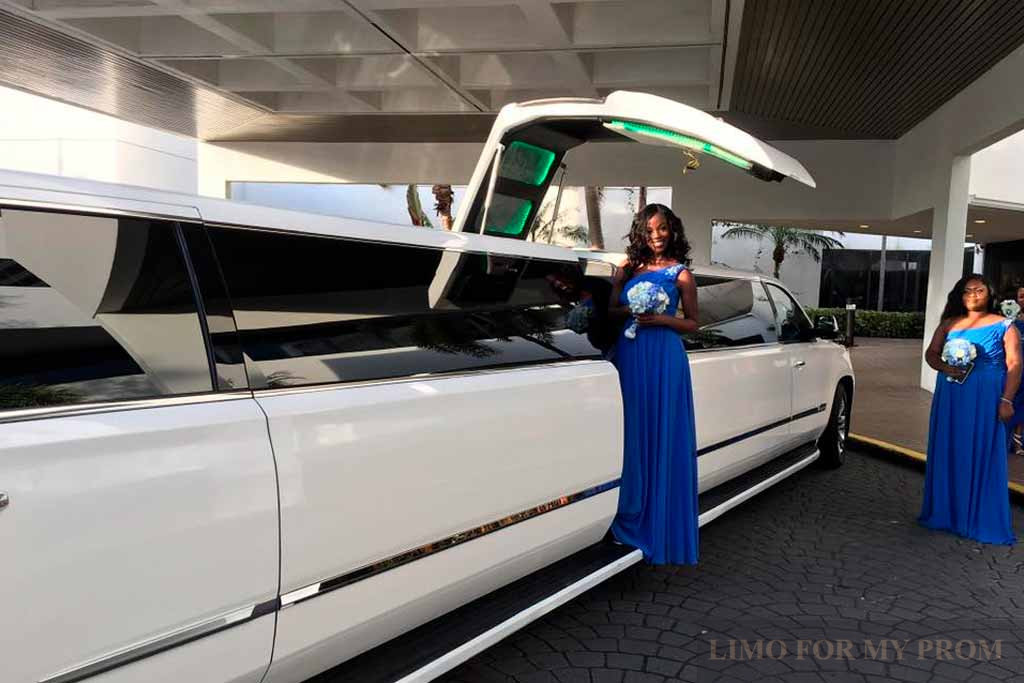 A limo rental or bus allows friends to travel to the prom in plenty of space. Students also enjoy riding with their partners to dance, ensuring the trip is just as enjoyable as the prom itself. They can sing along to the music and take photos without distracting their friend driving.
Today's teens love to make memories and share them with their friends via social media. Our prom limo rental options provide a stunning backdrop for pre- and post-prom photos. They will remember the glamour and grandeur of the prom venue and the luxury limo setting. limoformyprom.com Limo provides stretch limousines and limo buses for proms and the surrounding areas of Illinois. Book a luxurious and safe prom limousine for your teenager's special event.
Peace of mind that your teen will arrive at the prom safely and sound
A reliable limo service ensures that only highly trained and experienced drivers will be behind the wheel. Prom is an evening of fun and excitement. Your teen won't have to worry about how to navigate the streets. You can be sure that your prom limo rental company will take them to and from the dance on time.
RESERVE A PROM LIMO TO DANCE
Do you want to find the best limo rental company? limoformyprom.com Limo provides limo services for proms and school dances to ensure your children have a memorable experience. Are you ready to book a stretch limousine, party bus, or limo bus? Get a quote and book.